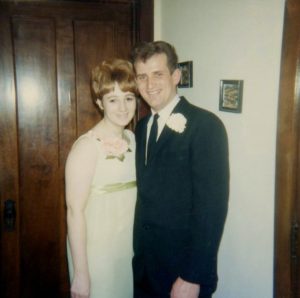 My dad couldn't talk or stay awake much the last few months of his life but he was able to muster up the words, "I love you, Tammy" one more time and said, "They're all waiting for me" before gently passing away in his sleep on October 17, 2018, at 9:30 A.M. My mother & I knew exactly who he was talking about, his best friends, Jim Mueller, Bill Yellin & his grandfather, Hermann Rose who are already in Heaven. I can hear them all say with laughter, the party has just begun.
I'll always remember our last conversation which centered around the many trips my dad took me on, my favorite to this day is Disneyland in California. My dad lit up like a Christmas tree as we reminisced about our days at the Magic Kingdom. While I was excited to experience every ride, my mom shouted in fright while on Space Mountain vowing to never return. My dad and I always got a good chuckle from that memory. I was also able to show him through FaceTime one of his favorite travel spots in the Bahamas where my dad scored a bunch of silver statues before we boarded a cruise ship.
While I was afforded the luxury of traveling the world, my dad almost lost his life at a very young age trying to survive the aftermath of World War II. After almost starving to death in the Traunstein Refugee Camp, his family immigrated to America in 1957. I've always believed it was his humble beginnings that motivated him to make sure everyone else around him was taken care of. He never forgot his German roots and would often fly back to East Germany before the Berlin wall came down to bring his relatives' basic necessities they couldn't afford or get on their own. Hans was like a Santa Claus to so many people taking loved ones on lavish vacations and offering up his home to anyone who needed a place to stay.
Ever since I was a little girl, my dad told me intriguing stories about our German heritage that would not only inspire me to write several books but launch my career as a journalist. Thank you, Dad, for your love and support and teaching me to keep going no matter how bad things may seem.
Click on the video links below as we say goodbye to the greatest man I knew.