I've covered quite a few high-speed chases from a helicopter in my career over the years but 3 in a week is a bit unusual. Every time I'm in the air covering this type of breaking news, I can't help but think of my 4 colleagues we lost on July 27, 2007, in Phoenix, Arizona.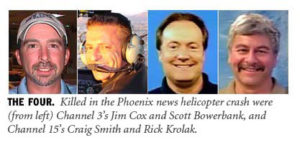 A wild high-speed police chase in Houston, Texas on Mar 14, 2018.
A police chase across Houston in morning rush hour ends in SWAT taken down the suspect on March 22, 2018.
Standoff with a suspect accused Of shooting a cop in Cypress Hills.